Improvements
From the Desk of the Executive Director, Melinda Crawford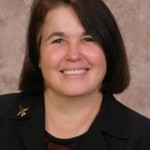 CHO is an incredible airport that has served as a welcoming portal to this community for 60 years. For the most part, CHO has provided its daily operations with no financial support from local taxes, but it has been challenging for CHO to maintain its infrastructure and keep up with changing technologies with its limited financial resources. In order to ensure that CHO is able to continue to provide the best amenities and environment for its traveling passengers, we continue to embark on exciting journeys of construction and innovation that will be funded primarily by the Federal Aviation Administration, Virginia Department of Aviation, and airport funds.
---
This improvement page will keep our passengers up to date on current and past construction projects at CHO. To better view, the images, click the link below the image. If you have any questions please call our administrative office at 434.973.8342 or email us at info@gocho.com.
Current Construction Projects:
Gate 5 Escalator Replacement Project
05.04.2022:
The new escalators have arrived and demolition of the current escalators is underway.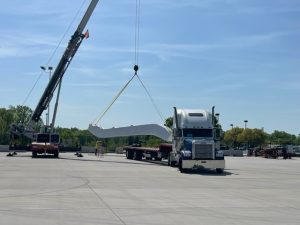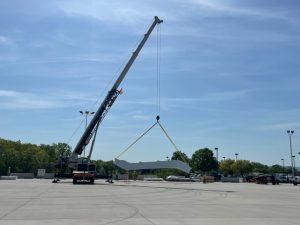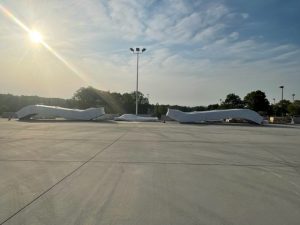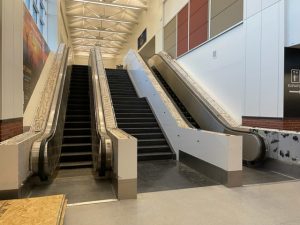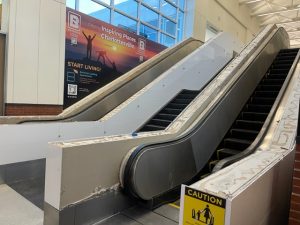 05.02.2022_Escalator4 05.02.2022_Escalator3 05.02.2022_Escalator2 05.02.2022_Escalator1 05.02.2022_Escalator5
04.28.2022:
On April 26th our upper-level Gate 5 area was shut down to replace all four escalators. This project will keep the upper-level closed until November of this year. The American Airlines Gate 5 area has been moved to a temporary location between our Tailwinds restaurant and the United Gate 1 area. There is signage leading passengers to the temporary Gate 5.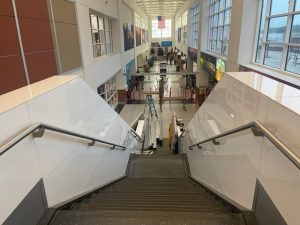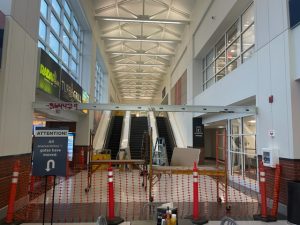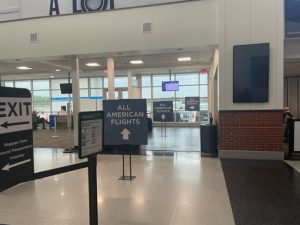 04.26.2022_Escalator_1 04.26.2022_Escalator_2 04.26.2022_Escalator_3
---
Long Term Parking Lot Pavilions
This Pavillion Project is to give our long-term passengers easier access to the terminal. These pavilions will have staircases and elevators in each. The project is looking to be completed Fall of 2022. Check in here for regular updates and photos of how the project is going.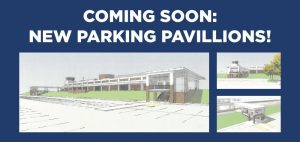 05.25.2022:
Please use caution! Beginning at 7 am, the short-term parking lot exit will be closed. There will be a detour in the lot with vehicles entering and exiting the same entrance. There will be airport staff to help make this transition as smooth as possible. This detour may continue through Thursday afternoon.
05.04.2022:
The South Side Pavilion roof is going up, there will be temporary lane closures while the lifts move from side to side. Use caution while taking Bowen Loop.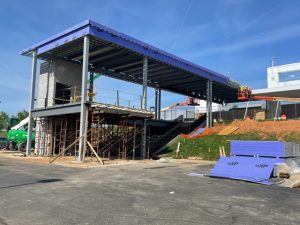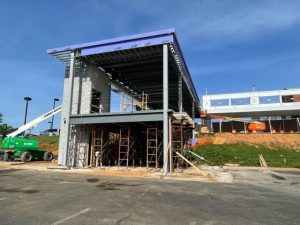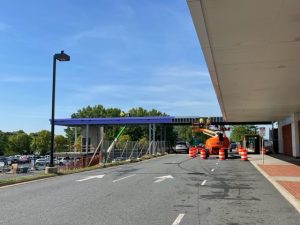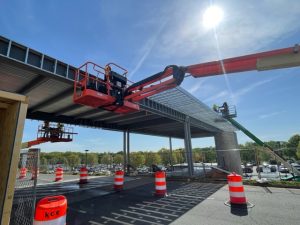 ElevatorProject_May32022_3 ElevatorProject_May32022_2 ElevatorProject_May32022_1 ElevatorProject_May32022_4
04.13.2022:
The elevator towers are complete on the North and South pavilions. The next road closure will take place on the 21st of April.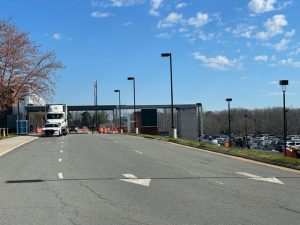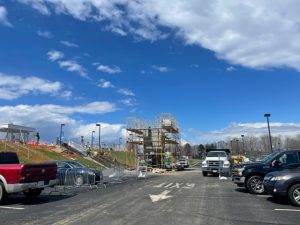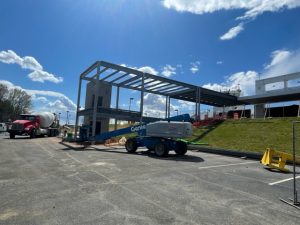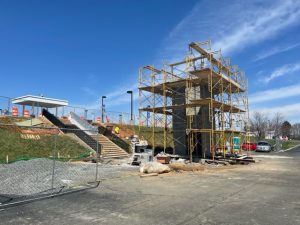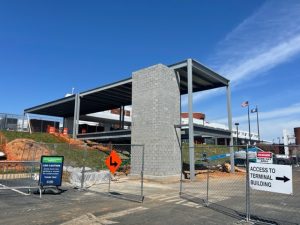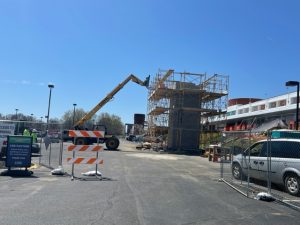 ElevatorProject_April04082022_1 ElevatorProject_April04082022_5 ElevatorProject_April04112022_1 ElevatorProject_April04082022_4 ElevatorProject_April04082022_3 ElevatorProject_April04082022_2 ElevatorProject_April04112022_2
04.07.2022:
Irregular Operations at CHO Tonight:
If you are planning to pick up a passenger this evening at CHO be advised there will be detours in place due to road closures in front of the terminal. To ensure a smooth transition for everyone, there will be plenty of CHO staff on hand to assist.
The closure will take place from 9pm until 3am.
04.01.2022:
On April 7, 2022; from 9pm to 3am, a portion of Bowen Loop (in front of the terminal) at CHO will be closed. If you plan to pick up a passenger or grab a taxi or rideshare, they will not be in their typical location. CHO will have extra staff on hand directing traffic and helping passengers find their way around the construction. We want to thank all of our passengers in advance for their patience as we work through is part of the parking project.
03.31.2022:
South Side: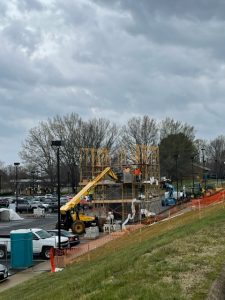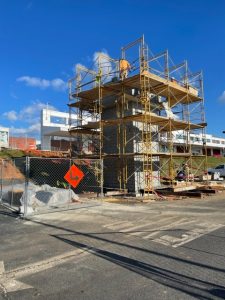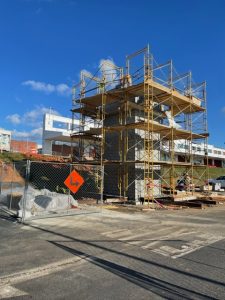 ElevatorProject_March312022_3 ElevatorProject_March312022_2
03.29.2022:
South Side: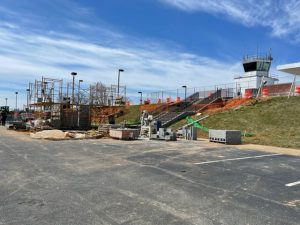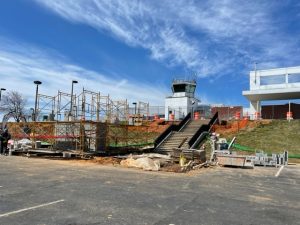 The progress on the first column is coming along! Footings and masonry work are being placed.
ElevatorProject_March292022_1 ElevatorProject_March292022_2
03.21.2022:
South Side: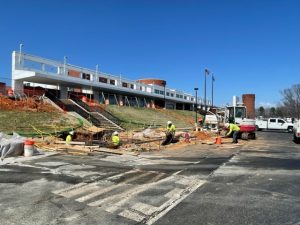 The first column of this walkway has started being built.
North Side: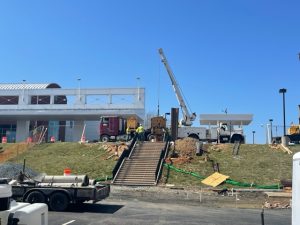 Placement of underground storm pipes are being installed.
03.15.2022:
Trenching on the North and South staircases has begun. Concrete will be poured this week. Large equipment will be shutting down some of Bowen Loop, use caution when you are driving in front of the terminal.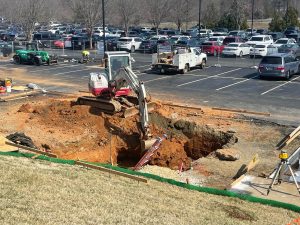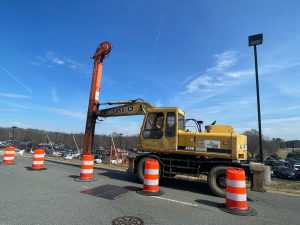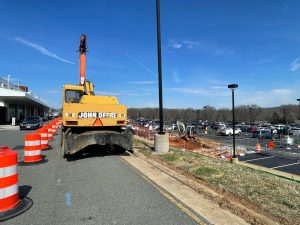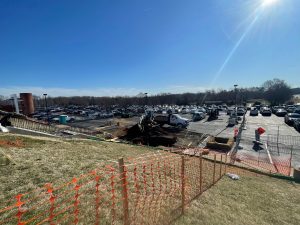 ElevatorProject_March152022_1 ElevatorProject_March152022_6 ElevatorProject_March152022_4 ElevatorProject_March152022_5 ElevatorProject_March1522_3 ElevatorProject_March15022_2
03.04.2022:
Demolition of the concrete and asphalt on the North and South staircases has begun. This should be done early next week, until then this will cause some lane closures throughout the day.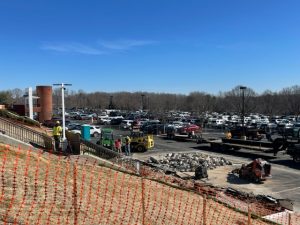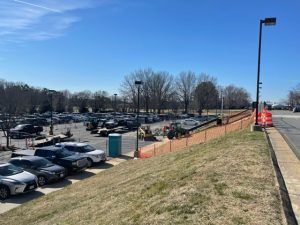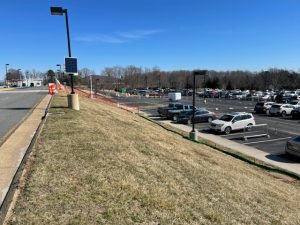 ElevatorProject_March42022_1 ElevatorProject_March42022_2 ElevatorProject_March42022_3
03.02.2022:
Throughout this project, there will be temporary lane closures. Please use caution when driving on loop road.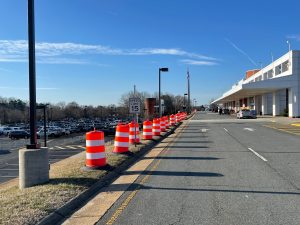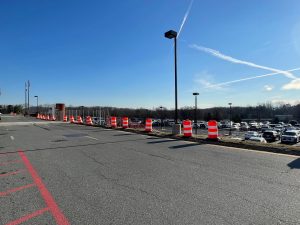 Elevator_Roadway_1 Elevator_Roadway_2
03.01.2022:
Starting March 1st, 2022, parking in the lot term lot will be limited to the center and back rows. Large portions of the front rows will be fenced off to start the pavilion project. The fencing to block off the areas will go up starting today and will be completed by March 2nd. This fencing will remove access to the North and South staircases.
---
Past Construction Projects:
September 2021
Demolition of Taxiway E, Construction of Taxiway A4:
As of Wednesday, September 22nd, 2021 – The Taxiway E/A4 project is substantially complete as of this afternoon. Taxiway Alpha is now opened full length, and Taxiway Alpha-4 is available also. The ILS and MALSR are also back in service.
With the expansion of the air carrier ramp, taxiway E no longer meets FAA design standards.
The new taxiway A4 is being constructed to FAA standards.
Taxiway A4 will reduce aircraft taxi times.
Taxiway A4 will reduce airfield congestion by allowing smaller aircraft to exit the runway sooner, and not have to taxi to the runway end.
Terminal Generator Project:
Two newly installed generators will allow the airport terminal to be independent of commercial power.
Area power outages will not affect terminal services.
Passenger screening and check-in will continue as "normal" during commercial power outages.
Airport Parking lighting and services will be uninterrupted, and concession services will be unaffected.
---
Before Construction
Renderings
Current Photos
---
Before Construction
Renderings
Current Photos
---
Before Construction
---
Before Construction
Renderings
---
Before Construction
Renderings
Current Photos
---
Tailwinds – Future Concessions
Renderings
Current Photos